About Our Church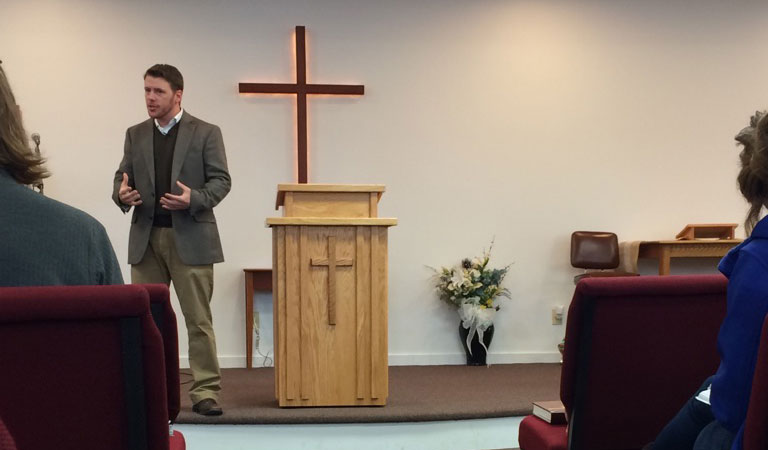 NLCC is a non-denominational, Bible believing, spirit filled, local representation of Jesus Christ established in 1985. The early stages of NLCC began in the living rooms of local families, with brief stops in both the Cambridge Train Depot and the basement of Hubbard Hall. NLCC now resides at 2 South Union street in a building formerly used for the manufacturing of goods. We believe it is not about where you meet, only that God is given preeminence. We depend on the leading of the Holy Spirit in all facets of our fellowship, worship, study and preaching.
Acts 17:24-28
24 God, who made the world and everything in it, since He is Lord of heaven and earth, does not dwell in temples made with hands.
25 Nor is He worshiped with men's hands, as though He needed anything, since He gives to all life, breath, and all things.
26 And He has made from one blood every nation of men to dwell on all the face of the earth, and has determined their preappointed times and the boundaries of their dwellings,
27 so that they should seek the Lord, in the hope that they might grope for Him and find Him, though He is not far from each one of us;
28 for in Him we live and move and have our being, as also some of your own poets have said, 'For we are also His offspring.'
About the Pastor
1 Corinthians 1:26-31
26 For you see your calling, brethren, that not many wise according to the flesh, not many mighty, not many noble, are called.
27 But God has chosen the foolish things of the world to put to shame the wise, and God has chosen the weak things of the world to put to shame the things which are mighty;
28 and the base things of the world and the things which are despised God has chosen, and the things which are not, to bring to nothing the things that are,
29 that no flesh should glory in His presence.
30 But of Him you are in Christ Jesus, who became for us wisdom from God—and righteousness and sanctification and redemption—
31 that, as it is written, "He who glories, let him glory in the Lord."
Founding Pastor: Rev. John J. Wood (1985-2015)
Pastor Jack:
Called by God out of the Corporate life of NYC
Moved his family from Long Island to Greenwich, NY
With the help of Elder Neil Corkery, began ministering to local people who were hungry for God
Established New Life Christian Church in January of 1985
Faithfully served the Lord until 2015
Senior Pastor: Rev. Eric Hartwell (2015-present)
Pastor Eric:
Began attending New Life Christian Church at the age of 6 with his parents and siblings.
Gave his heart and life to Jesus in 1999 as a 20-year-old
Graduated from Mount Zion School of Ministry in 2003
Married his wife, whom he met at bible school, in December of 2003
Worked as a PE teacher/Athletic Director at Grace Christian School from 2003 – 2014
Welcomed his two children, Chloe (2006) and Benny (2008) into their family
Succeeded Founding Pastor Jack in 2015
Note from the Pastor
I am confident that when Jesus Christ takes us home, either through death, or His second coming, He will not be looking for perfect people. He will not be looking for people that have it all together. He will not be looking for people who have given the most money to those in need. He will not be looking for those with the highest level of education. He will not be looking for Elders, Deacons and Sunday school teachers. When Jesus takes us, he will not be looking at us collectively. He will be looking at us individually to see what measure of Himself there is!
The question we need to ask ourselves is not, "Have I done everything right?". It is not, "Do I deserve to enter into eternity with God?". The answer to those two questions will be an overwhelming, "NO". We cannot enter eternal life on our own merit. That is the Good News of the Gospel. We can enjoy every spiritual blessing through Jesus Christ.
Ephesians 1:3
Blessed be the God and Father of our Lord Jesus Christ,
who has blessed us with every spiritual blessing in the heavenly places in Christ
Titus 3:4-7
4 But when the kindness and the love of God our Savior toward man appeared,
5 not by works of righteousness which we have done, but according to His mercy He saved us,
through the washing of regeneration and renewing of the Holy Spirit,
6 whom He poured out on us abundantly through Jesus Christ our Savior,
7 that having been justified by His grace we should become heirs according to the hope of eternal life.